a peculiar solution to a typical problem October 2004

The intrusion of external space to the internal was the initial idea for this house and its peculiarity is one's continuous effort to self-orientate after entering. Mirrors inside the residence act as partition walls of the interior or as surfaces that appear rhythmically as openings of the house. Both the owners or the visitors are confused not knowing if what they see is outside or inside. Moreover, some vertical surfaces are mirror-like from the one side and transparent glass from the other. As a result, an exciting game is going on between people inside the house, of seeing and not be seen.The apparent continuity of the space "into the mirrors" is intensified by the use of chess-board-like floor. The selected pattern intentionally betray the presence of the mirrors. Functions are organized in a succession from the most "public" to the more private ones. The surrounding elements of the environment are mirrored on the elevations making the building invisible.

---
Introductory Architectural Design Studio * Aristotle University Thessaloniki * project team: Hara Bimpa, Despina Papadopoulou
Powered by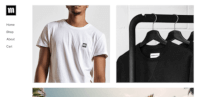 Create your own unique website with customizable templates.